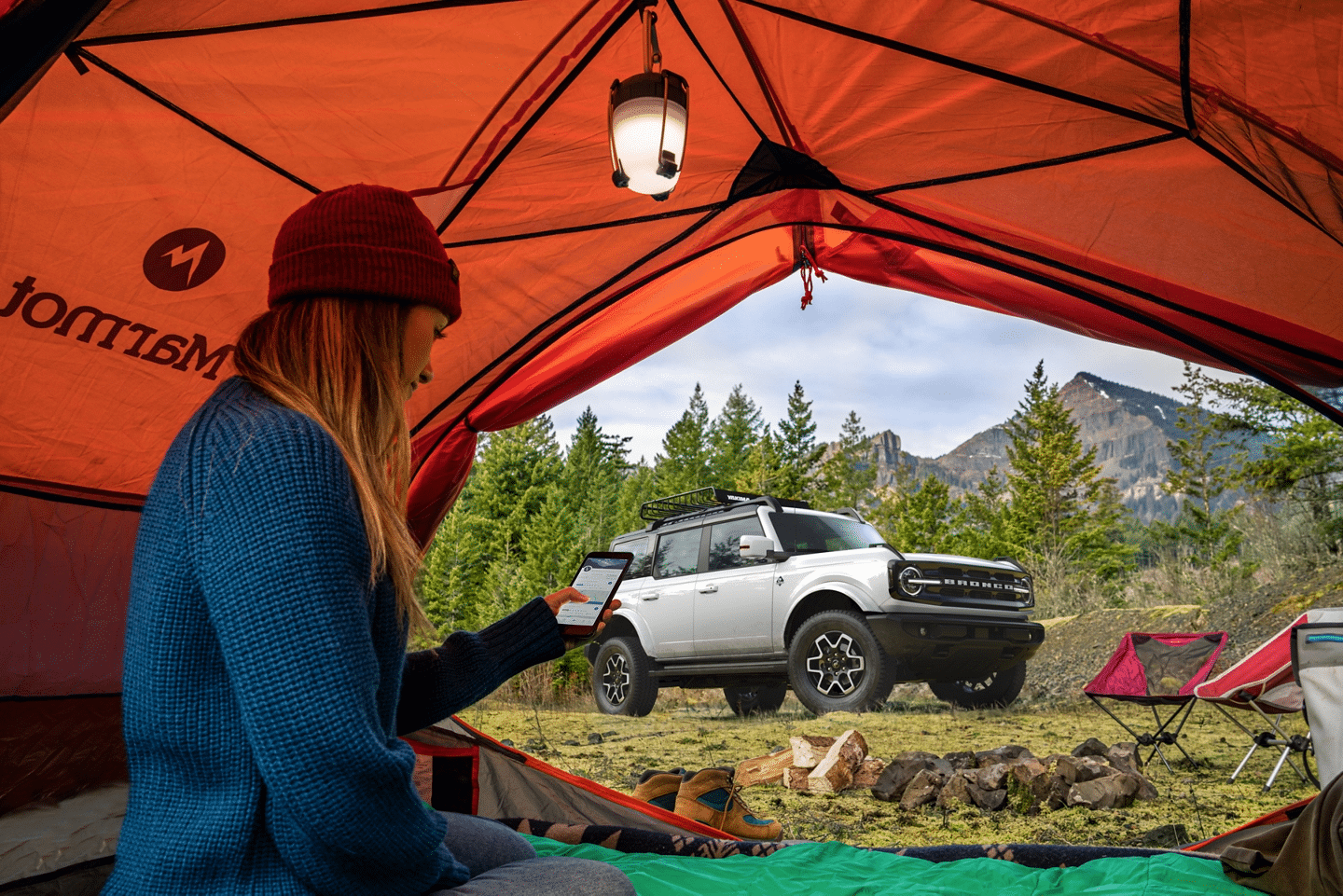 There are many reasons to love the new 2021 Ford Bronco. The top reason may just be its versatility.
No matter what your preferred outdoor adventure is, Ford Bronco is there for you. At Twin Hills, we are here to get you into that Bronco.
Whether you are into watersports, off-roading, or simply escaping into the wilderness, there is a
Bronco to fit your style. There are six models for you to choose from:
Base – This model is stripped down to nothing but power and adventure. You can leave it as-is or customize it.

Big Bend – If you like to explore and enjoy the comfortable things in life, this model will not leave you wanting.

Black Diamond – If you like to go past the end of the road, this model will get you there.

Badlands – This model is designed for the most extreme off-roading enthusiasts.

Outer Banks – If you like to look good while adventuring, this model is for you.

Wildtrak – When speed is what matters, this model tops the cake.
Start out by picking the Bronco that best suits your outdoor lifestyle, and from there, you can customize it as desired. With so many options available, there is no reason not to love the Bronco.
Off-Road Performance
What makes an adventure vehicle stand apart from the rest is its ability to go beyond the road more traveled. The Bronco has been reinvented, making it the best-in-class for many things, including:
Departure Angle: 37.2 degrees

Breakover Angle: 29.0 degrees

Ground Clearance: 29cm

Water Fording: 85cm
From mountains to deserts, wherever you choose to adventure, the Bronco can handle it.
Unbridled Power
While performance is important, without power, you will not get anywhere. Bronco has multiple engines for you to pick from so you can get what you want.
The standard 2.3L EcoBoost four-cylinder engine gets 270 horsepower and best-in-class 310 lb-ft of torque, and the 2.7L EcoBoost six-cylinder engine gets best-in-class 310 horsepower and 400 lb.ft of torque.
You can choose between the 7-speed manual transmission or a 10-speed automatic transmission so you can get the most out of your Bronco.
Trailblazing Technology
You can expect nothing but the best when it comes to the Bronco's tech. The new Bronco Trail Toolbox is a suite of tech features that makes your adventure more enjoyable.
The toolbox includes:
Trail Control – a cruise control system designed for off-road navigation

Trail Turn Assist – the turning radius of the Bronco is reduced when at low speed

Trail 1-Pedal Drive – gives you more control by slowing to a stop just by lifting your foot off the accelerator

Terrain Management System with G.O.A.T. Modes – The Bronco Goes Over Any Type of Terrain (G.O.A.T.) when you select the right mode
From the driver's seat, you have all the control. The instrument panel has gauges and controls that are easy to see and operate.
Just above the center console's touch screen are controls for the Off-Road Hero Switch Pack. These features can be turned on or off with the push of a button. The features include:
Sway Bar Disconnect

Front and Rear Differential Lock

Trail Turn Assist

Electronic Stability Control

Hazard Lights
Once you leave the paved road, your phone's navigation system is no longer what you need.
The FordPass Performance App lets you pick from a curated list of trail info from professional trail guides so you know where you are and what to expect.
Immersed in the Outdoors
The Bronco is for outdoor lovers. Unlike other recreational vehicles that let you see the scenery through the windows, the Bronco lets you be a part of it.
You can go from all closed up to feeling the wind in your hair with removable parts, which include:
Roof – choose from a soft top, hardtop, or dual top

Doors – with the 4-door model, you can store the removed doors onboard
Styled for Outside
Ford knows that the Bronco is meant for outdoor play, and that comes with dirt. You can opt to go for a more luxurious interior, or one that can handle getting wet and dirty.
You can have your seats decked out in:
Leather

Durable Cloth

Marine-Grade Vinyl
If you plan on getting really dirty, you can go with the rubberized washable floors with integrated drains. When you are all done playing, clean-up is as simple as hosing off the inside and out.
Customized to Your Liking
From the engine to the exterior color, you can pick and choose what you want your Bronco to be. No matter what combination you put together, once you get behind the wheel, you will not want to quit.
If you have wilderness adventure in your blood, then you need a Ford Bronco. At Twin Hills, we do not want you to miss out on getting a Bronco. Reserve your Bronco online today and when the time comes, choose Twin Hills to be your Bronco Dealership.