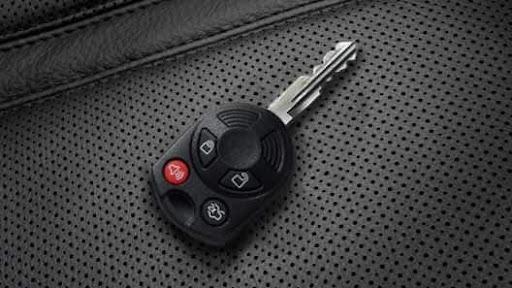 Our team at Twin Hills Ford Lincoln understands that car shopping with your teenaged first-time driver is a bittersweet rite of passage for most parents. You are excited about their newfound independence, reminiscent about your own driving experiences, and hesitant, concerned, maybe even worried about putting your child behind the wheel of a car out on the open road.
Statistics don't help, either. The Centers for Disease Control and Prevention (CDC) reports that motor vehicle crashes are the second leading cause of death for US teens. According to the CDC, risk factors for teens include inexperience, nighttime and weekend driving, not using seatbelts, distracted driving, and speeding.
At Ford, our engineers believed we could do more to keep our teenage drivers safe, and that's how Ford MyKey was born.
MyKey Basics
Ford MyKey is exactly what it sounds like. It is a programmable key fob engineered with configurable and non-configurable settings to help encourage your inexperienced driver to make better choices.
You can configure all but one of your keys in a restricted mode. Those unprogrammed keys are the Administrator Keys. Use these fobs to create a MyKey, program settings, and clear MyKey features.
Configurable Settings
With the Admin key, you can configure other MyKey settings. Configurable settings include:
Setting a vehicle speed limit. You can set various vehicle speed limits so the MyKey driver cannot exceed certain speeds. When your driver reaches their speed limit, they will receive warnings on the vehicle information display followed by an audible tone. The MyKey driver cannot override speed limits.
We urge caution in determining this speed limit. You don't want to endanger the driver by setting a limit that prevents the driver from maintaining a safe speed considering posted speed limits and prevailing road conditions. This setting should be set with thoughtful caution.
Speed reminders. MyKey drivers need to know when their vehicle is approaching set speed limits. As riders accelerate, they will receive warnings in the information display and hear an audible alarm when they exceed the set vehicle speed.
Maximum volume limits. We know distracted driving can be a cause of accidents for teenage drivers. With MyKey, you can set the audio system's maximum volume limits to 45%, so your MyKey driver can more easily focus on the road. MyKey also disables the automatic volume control.
Always On Setting. With this setting, you can program "Always On" to guarantee certain safety features are constantly working to protect your driver. For example, E-911 or emergency assistance and the do not disturb features stay on even if a MyKey driver uses the feature's control to switch it off. If your vehicle has the Advance Trac or traction control feature, your driver will not be able to deactivate it.
Non-Configurable Settings
Not every vehicle includes some of the following features, but if your vehicle does have this equipment, you cannot change these settings using Ford MyKey.
Belt-Minder. MyKey mutes your audio system until drivers and passengers fasten their seatbelts.
Early Low-Fuel Indicator. When your driver runs low on fuel or charge, this feature illuminates at 55mph instead of the factory standard 25mph. This allows your driver to make the best refueling decision possible.
Safety Systems. Our Ford Co-Pilot360 driver-assistive technology suite is another way we work to make our drivers and their passengers safe. If your vehicle contains these systems like Blind Spot Information Systems, Lane Departure Warning, or Cross-Traffic Alert, these systems will be turned on automatically when you use MyKey.
Satellite Radio Restrictions. If this feature is available in your market, your MyKey user will find adult content restricted when using MyKey.
It's important to note that not all of these systems are available within every market. Ask your sales team member to walk you through the available MyKey settings for your vehicle.
It's our hope you'll be comforted by this safety feature that's specifically engineered to help lower the risk factors faced by your teenage driver.
About Us
At Twin Hills Ford Lincoln, our team is committed to making your car-buying experience a good one! We are focused on our customers and their unique circumstances to help find the best vehicle for you.
If you're shopping with a first-time driver, our team wants to eliminate as much stress and concern as possible. We are here to walk you through options like Ford MyKey and the safety features, like Ford Co-Pilot360, that may be available on the vehicle in which you're most interested.
This rite of passage should be memorable - for all the best reasons. Visit us TODAY on Yonge Street, and let's work together to send your first-time driver into the world as safely as possible. You won't regret it!