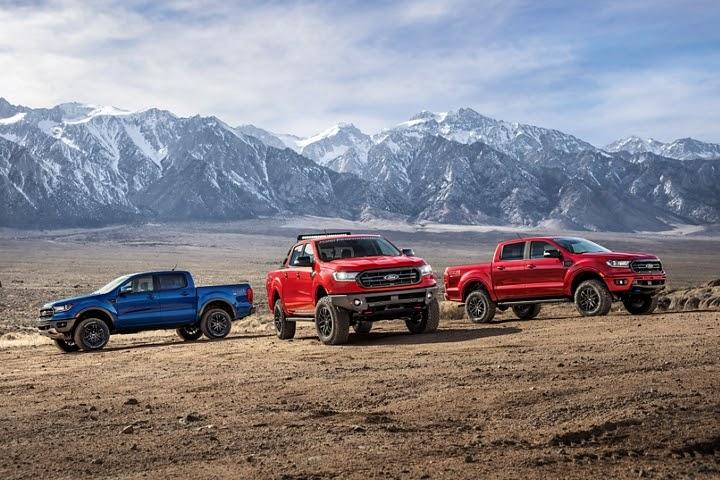 At Twin Hills Ford, our 2020 Ford Ranger is proof you can drive a pickup truck and still save on fuel. We also recommend a number of fuel efficiency tips to help you save no matter what vehicle you're driving.
2020 Ford Ranger
As a non-diesel pickup truck, the Ford Ranger has a high EPA-combined fuel economy due in large part to the 10-speed automatic transmission and an efficient but powerful 2.3 liter, turbocharged four-cylinder Ecoboost engine. It is engineered with a twin-scroll turbocharger that extracts exhaust gas from pairs of cylinders in alternating sequence, maximizing pulse energy to the turbine wheel for responsiveness on-demand with virtually no lag. With a fuel mileage calculation of 23 mpg combined, its fuel efficiency is competitive among other trucks its size.
Moderately priced and with a towing capacity of 7500 lbs., this truck performs well for both the commuter or the off-roader. Loaded with standard and available features for optimal handling and safety, the Ford Ranger makes a great truck for a first-time driver or the highway commuter with a weekend hobby off the beaten path.
Raw torque rules when it comes to taking on the rugged conditions you encounter off-road. The new Ford Ranger, with a torque rating of 310 lb-ft, beats all other gas-powered pickups in its class.
Even if you aren't driving a pickup, there are lots of ways you can optimize fuel efficiency.
Fuel Efficiency Tips
Don't drive aggressively. Smooth navigation of your vehicle will help you save on fuel. Keep a consistent speed. Navigate stops by applying the brakes in plenty of time. Don't jerk the vehicle to a quick stop by applying brakes too quickly. The more consistently you drive, the more gas you will conserve.
Fuel mileage capability decreases exponentially after 50 mph. Of course, it's not always possible to drive this slowly, but when you can maintain this speed over a consistent period of time, you'll see marked savings in fuel over time.
When you're able to maintain a consistent speed, use the cruise control to take the pressure off maintaining. The more consistently you drive, the better your savings.
We're not sure when it started, but it became standard for drivers to throw their vehicle into neutral when coming to a stoplight or pausing at a railroad crossing. Believe it or not, that shifting back and forth is a gas guzzler. Just apply the brake and maintain your gear. There's no need to shift back and forth.
If you're going to be waiting in your car for longer than a few minutes, it's always better to turn off the engine. Vehicles aren't made to be idle, and it shows in the fuel economy.
In addition to these driving tips, maintenance plays an enormous part in fuel efficiency. If you follow these rules of thumb, you'll see a noticeable difference in the padding of your wallet.
Most engine tuning is reliant on computer technology. Coming into the dealership for a tune-up has never been more important. Our Twin Hills Ford service technicians are trained to keep your Ford vehicle running as efficiently as possible. Ford service computers are designed to check all your vehicle's sensors for functionality. Ignition timing, fueling to adjust or correct air-fuel ratio, changing the fan kick-on feature - all these pieces working at their prime help conserve fuel.
Parents always ask, "Have you checked the air in your tires?" They're asking for a reason. If your tires are inflated correctly, this simple fix is one way to see a difference in fuel efficiency.
Sometimes, when you're looking to save a few bucks, it's tempting to throw a cheaper grade of oil in your vehicle. Find a way to save somewhere else. In the long run, cheap oil isn't worth it. Not only will you lose fuel economy, but you can also run into expensive engine repair.
Hard to believe such a simple fix can have such a big impact on your fuel efficiency. If your gas cap isn't sealing properly, you can be losing money there too. Check to see whether the seal is maintaining its suction - you may be surprised at what you find.
If you've always wanted to drive a truck, but concerns about fuel efficiency stopped you, don't wait any longer. Come to Twin Hills Ford today to see the 2020 Ford Ranger and check it out for yourself.